Raise a glass to Riesling's Birthday on March 13th! We selected this date for International Riesling Day in honor of the oldest known documented evidence of the grape, written in the cellar log of Count Katzenelnbogen near the Rheingau region on March 13, 1435. Although we think German Riesling is the perfect accompaniment for any time of year, this day calls for a special toast!
No matter the type of party (or partier!), there's a Riesling style fit for all. Here are a few ways you can raise a glass on this special day:
Riesling Sekt for Those Who Love to Be Surprised

: Riesling in sparkling wine form takes many people by surprise with its freshness, diversity in style, and food-friendliness. Plus, nothing says "Celebrate!" quite like the sound of popping a bottle of bubbly. Ranging from elegant traditional method styles to bright and fruity Charmat method examples, there's a Riesling

Sekt

for all price points.

Single Vineyard Riesling for Birth-Week Celebrators

: Are you the type of wine enthusiast who goes all out? Cheers with a single vineyard Riesling! Riesling is one of the most terroir-expressive grapes in the world, so you can taste the difference in Rieslings made from 100% grapes grown in the same site. Try a tasting line-up of single vineyard German Rieslings from different regions or even from different vineyards in the same region to explore the grape's unparalleled versatility! Typically complex and age-worthy, these Rieslings are sure to get and keep the party going all week. Just look for bottles with the vineyard listed

on the label

or with the

terms

"Grosse Lage" (the VDP's equivalent to Grand Cru) or "Grosses Gewächs" (dry Grosse Lage wines). 

Auslese Riesling for the One with a Sweet Tooth

: Riesling's versatility also means it can produce crowd-pleasing wines in all styles from bone-dry to lusciously sweet. Rich and complex noble-sweet Rieslings are great for pairing with fruity desserts and light cakes – or you can forgo cake all together and satisfy your sweet tooth with a Riesling labeled Auslese, Beerenauslese, Trockenbeerenauslese, or Eiswein. These

Prädikat

wines are selectively harvested late in the season, after sugar content increases in the grapes – balanced perfectly by German wines' trademark high acidity.
Looking to level up your festivities? Toast to Riesling Birthday with light and fluffy Strawberry Riesling Cake! Made with luscious cream and fragrant strawberries, this cake is a delightful way to honor the King of White Wine, especially when paired with a ​​Spätlese, Auslese, or later-harvest Riesling.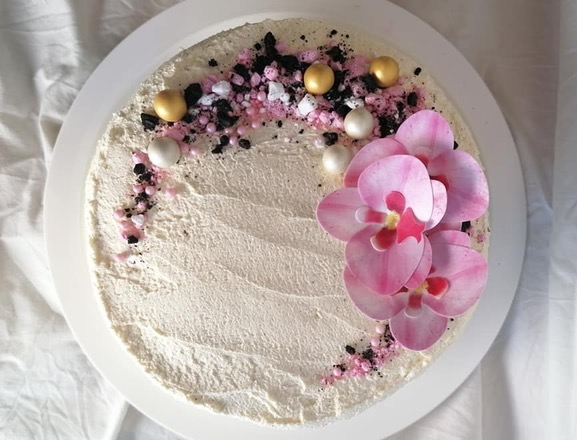 Strawberry Riesling Cake Recipe:
Ingredients:
Cake Base Ingredients:
2.5 sticks (20 tablespoons) of butter (room temperature)

2 cups sugar

5 egg whites

2 teaspoons vanilla extract

3 cups wheat flour

3 teaspoons baking powder

1/2 cup milk

1 cup off-dry Riesling 
Cake Filling & Icing Ingredients:
3/4 cup heavy whipping cream

3/4 cup sour cream

1 cup vanilla cream cheese

1 teaspoon vanilla

3/4 cup sugar

1 envelope gelatin

1 cup puréed strawberries (frozen)

3 tablespoons cold water
Directions:
Cake: 
Preheat the oven to 350°F.

Grease and line a loose-bottom cake pan with parchment paper.

Beat butter and sugar until fluffy. Add the egg whites and vanilla and continue to beat. In a separate bowl, combine the flour and baking powder, and add half to the egg/butter/sugar mixture.

Add the milk and wine, then add the rest of the dry mixture and stir. The batter should be thick and shiny. 

Pour batter into the pan and bake for approx. 30-35 min, or until a toothpick inserted comes out clean.

Allow to cool completely before cutting. (Tip: Refrigerate until the next day; it makes it easier to cut!)
Filling: 
Put the gelatin in cold water to rehydrate and dissolve. Meanwhile, whip the cream until frothy. Mix the sour cream, cream cheese, sugar, and strawberry puree into the whipped cream. 

Heat the gelatin and water in the microwave for 10-15 seconds until fully dissolved. Let cool, then gradually add to the whipped cream mixture, whisking the entire time. This will stabilize the whipped cream.

Slice the cake into three parts and pile the filling between each layer in the loose-base pan. Set in the fridge for at least six hours, preferably overnight.

For the frosting, you can use vanilla-flavored whipped cream (approx. 1.5 cup) and decorations to your liking!
Download the recipe at this link and let us know how you're celebrating Riesling Birthday by tagging @GermanWineUSA!