Sparkling wine ("Sekt" in German) is extremely popular in Germany. Germans drink more sparkling wine per capita than any other market in the world. Of the nearly 2 billion bottles of sparkling wine annually produced worldwide, about one fifth are consumed in Germany. In 2017, residents consumed 400 million bottles of sparkling wine, which includes Champagne, Cava, and Prosecco. In the same year, the country produced 368.8 million bottles of Sekt, most of which stayed in Germany.
Big brands that have been on the market for decades are the driving force behind international sales. But in recent years, more and more smaller German producers are offering high quality Sekt, using the traditional bottle fermentation method.
Riesling
With over 23,000 hectares, Germany is home of the world's largest vineyard area dedicated to Riesling. Riesling is predestined for northerly wine-growing regions and grows in all 13 German regions. Depending on type of soil and microclimate, it yields grapes that produce wines with extremely diverse nuances. They range from bone dry to lusciously sweet and from everyday wines to rare, high-quality collectibles. A "typical" Riesling is reminiscent of peach or apple on the nose, and has pronounced acidity. It is fantastic for food pairing and sparkling wine production.
Pinot Noir
(Spätburgunder)
If Germany's finest white wines are produced from Riesling, its red wine counterpart is Spätburgunder, which reaches top form in German sites. Germany ranks third worldwide in area devoted to Pinot Noir, after France and the USA, with almost 12% of the vineyard areas planted with the grape. Ranging from ruby to garnet red, Pinot Noir wines are slightly tannic, mild in acidity, and have a long finish with aromas reminiscent of blackberry and cherry.
Pinot Blanc
(Weissburgunder)
Weissburgunder wines' fresh acidity and delicate fruitiness make it not only an ideal food wine, but also a light summer wine. A white mutation of Pinot Gris, the grape has shown a steady upswing for several decades; its area has doubled within the past ten years, and Germany has the highest number of plantings worldwide. German Pinot Blanc is typically vinified dry and have a slightly nutlike aroma.
Silvaner
Subtle in aroma and mild in acidity, hearty, fairly neutral Silvaner is an excellent food pairing wine. The wines are sometimes earthy and powerful, and are prized for being juicy and mouth-filling. The widespread cultivation of Silvaner dates from the early 19th century, and it was once the most important grape variety in Germany. It has long been a traditional variety in Rheinhessen and Franken.
Gewürztraminer
(Roter Traminer)
Gewürztraminer, also known as Roter Traminer, is one of the oldest grape varieties still cultivated; it was documented in Germany in the 16th century. The thick-skinned, light red grape can reach high levels of ripeness and produce fine, perfumed white wines, straw to golden yellow in color. Gewürztraminer is known for being mild in acidity and very aromatic with notes of acacia blossoms, violets, honey, and more.
Other varieties used to make Sekt include Pinot Meunier, Scheurebe, Chardonnay, Kerner, Elbling, and Sauvignon Blanc. Read more about Germany's white varieties here.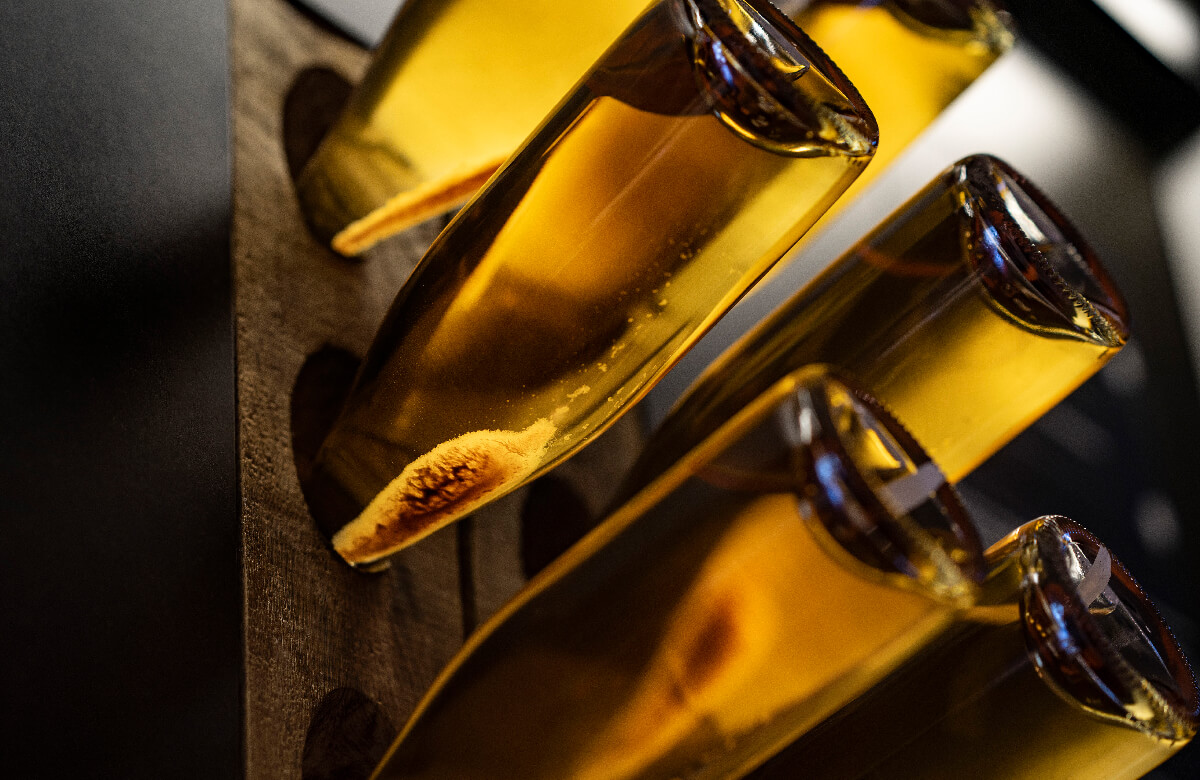 Deutscher Sekt: Grapes must originate 100% from Germany.

Sekt b.A.: Grapes must originate 100% from a specified region, subject to quality control testing.

Winzersekt: High quality sparkling wines of a single vintage and grape variety. These sparkling wines are produced according to the traditional method (must be aged on the lees for at least 9 months). However, this term is not always used to designate a quality Sekt, as quality is more difficult to standardize with sparkling vs. still wine. Look for the following quality criteria on the label: origin, grape variety, method of production, and the quality control test number (in German, the A.P.Nr.).
Styles and Suggested Pairings
This style has 0-3 g/l of residual sugar, making it very dry. This style of Sekt can be enjoyed with light cheeses, spinach dip, or stuffed mushrooms.
With 0-6 g/l residual, this style of Sekt is also bone dry, but just 3 g/l more residual sugar helps counter the acidity. This style complements seafood dishes like clams, oysters, and shellfish.
With 0-12 g/l residual, this style of Sekt has slightly more body and tastes dry – even bone dry – because of the acidity balancing the sugar. This style of Sekt pairs nicely with lighter meats, such as chicken and duck, as well as smoked salmon.
With 12-17 g/l residual sugar, this style is still dry with more a little more fruitiness on the palate. This style of Sekt pairs well with creamy pastas, anything fried and battered, and salty dishes such as cured meats (everything delicious!).
With 17-32 g/l residual sugar, this style offers a balanced palate of dry and sweet. This richer style of Sekt pairs perfectly with spicy cuisine, such as curries and Thai or Chinese food.
With 32-50 g/l residual sugar, this style is fairly sweet, and can match creamy cheeses, shortbread cookies, and fruit-based desserts such as apple crumble or peach crisp.
With 50 g/l residual sugar, this is a luscious dessert-style Sekt, perfect alongside cheesecake, crème brûlée, bread pudding, and other creamy desserts, not including chocolate.