What could be more uplifting than a cheerful pink wine in your glass? While rosé has become a warm-weather staple thanks to its thirst quenching freshness in the warm sun, we consider the pink drink a perfect pick all year round. Next time you're in the mood for rosé, consider making it a German rosé!
The Rosé Craze
Over the last few years, the quality and the popularity of Rosé wines worldwide has grown immensely, and Germany is no exception – 1 in every 10 wines bought in Germany is pink!
To meet this demand, winemakers in Germany have almost doubled production of rosé over the past decade. It now makes up 12% of all German wine production, up from 7% ten years ago. Many of Germany's most renowned producers have joined the movement, producing both uncomplicated, everyday go-tos and contemplative, high-end stunners.
Premium Pink From Pinot Noir: German Rosé
Everything you look for in a rosé wine – namely light and fruity freshness – is perfected by German vintners. German rosé runs the gamut from summery, entry-level delights to fuller-bodied and complex bottlings
The French term has been widely adopted in the German wine industry, but you might also see German rosé labeled as Weissherbst or Weißherbst. This simply indicates that this rosé is a "Qualitätswein" or quality wine, made from a single grape variety from one region, both of which must be declared on the label.
While German producers craft rosé wines from a number of red grapes – single-varietal or blends – and varying styles, most German rosé in the U.S. is dry, varietal Pinot Noir (Spätburgunder) rosé.
This makes sense, since Germany is home to the third highest planting of Pinot Noir in the world. And Pinot Noir is perfect for pink wine, producing rosé with:
Delicate and tart red fruit flavors like raspberry, redcurrant, and strawberry
Bracing minerality and herbal notes, and occasionally hints of white chocolate
Full bouquet of fruity aromas
Gentle yet pronounced acidity, creating a crisp, refreshing character
Excellent structure – round and fresh
Have we won you over yet? Rosé Sekt (sparkling rosé from Germany) retains many of these same characteristics with added bubbles.
Pink Pairings: Foods for German Rosé
Light and approachable German rosé can stand on its own or as an aperitif, but also complement a number of dishes to add some fun to any feast:
Tapas and antipasti
Fresh salads
Grilled chicken and certain barbecue dishes
Seafood from white fish to salmon
Tomato-based pastas
Delicately spicy meals, such as curries or Thai food
Mild, semi-hard cheeses (Edam or young Gouda)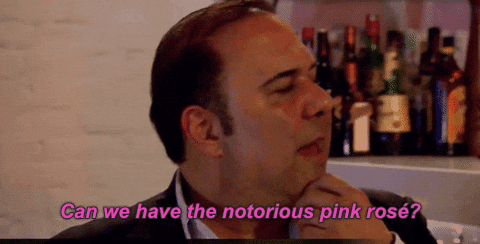 You Can Sip With Us! Storing & Serving Rosé
Owing to their uncomplicated versatility, German Rosés shine at social gatherings (in person or over Zoom!) in any season. Typically, we recommend serving rosé slightly chilled at a drinking temperature between 45-55°F. On a hot day, feel free to ice them down but avoid chilling them too much or you'll dull the flavors and aromas.
Most rosé is best-enjoyed young because the fruit aromas are most evident in the first years. They are rarely intended for long-term storage or aging, and most should be kept for no longer than a year or two. Like all wines, they should also be stored in a cool, dark place with the lowest possible temperature fluctuations.
Tempted to taste? Check out our #5toTry on German Rosé and search Wine.com's selections in your state. For more on Germany's rosé revolution, check out this guide from PUNCH.
If you need inspiration on more German varieties to fill a case, check out our blog posts on German Pinot Blanc, Pinot Gris, Riesling, Silvaner, and Sekt, or explore more of Germany's white and red wine grapes.